That precious baby you see above is Babu Frik, the newest character from Star Wars: The Rise of Skywalker. The image of Babu was released on the official Star Wars website in connection with a giant sweepstakes that could snag you and a friend a ticket to the red carpet premiere of The Rise of Skywalker when it premieres this December. The contest features promotions from McDonalds, Bose, Samsun, United Airlines and…I'm sorry, I can't even think about the sweepstakes when that cutie pie above is staring at me. Look at him! I just want to squeeze him! Look at his little fingers!
So what is Babu Frik's deal? According to Lucasfilm, he is an Anzellan droidsmith who "works among the Spice Runners of Kijimi and can reprogram or modify virtually any droid — regardless of the security measures protecting its systems." Perhaps Babu has something to do with this image from the first Skywalker trailer: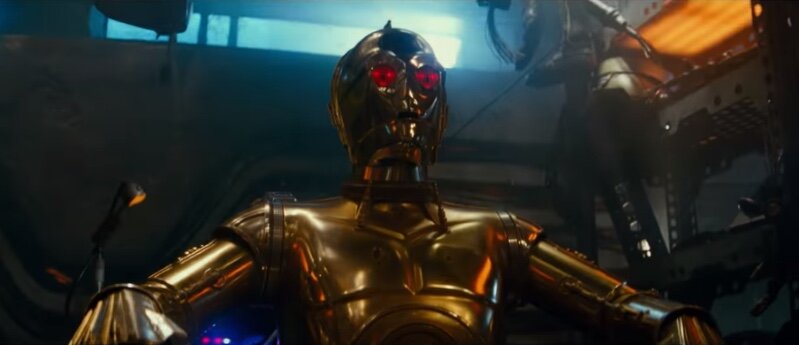 I'm not saying Babu is the reason C3PO's eyes are red but perhaps he's the reason they won't be. Maybe he's the key to bringing 3PO back to his normal self. Or maybe he's unlocking some sort of battle mode in our favorite droid. Regardless, I think it's very likely that our new furry friend will have something to do with C3PO's transformation.
If you would like to try your hand at the massive sweepstakes I mentioned above, head on over to the official Star Wars website. But if you would like to use your time wisely, save that image of Babu Frik above and use it as your new wallpaper. To know Babu Frik is to love Babu Frik.