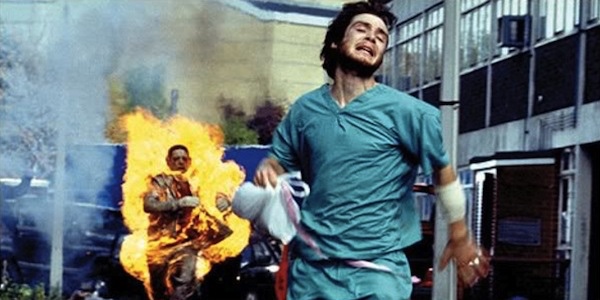 28 Days Later is a horror masterpiece and, frankly, my favorite film of all time. Danny Boyle both followed and broke the rules of the zombie genre and changed everything. The movie is raw and original while still managing to pack in quite a few scares and masterful performances. It continues to feel like a breath of fresh air. There aren't many movies that really did change the game, 28 Days Later is one of them.
Its sequel, 28 Weeks Later, didn't hold a candle to Days but was still a solid movie, albeit a much more typical horror/action affair. Ever since its release, fans have been wondering and hoping if Boyle and screenwriter Alex Garland would return to the franchise to give it a third film. What would it be: 28 Months Later? 28 Years Later? Damn, we'll even take 28 Decades Later if we have to!
While Boyle has mentioned his desire to make a third movie many times before, it sounds like the proposed film is actually moving forward. Here's his quote to The Indepedent:
That definitely sounds like some serious progress. The best part is that we know Boyle and Garland wouldn't even think about doing another Later sequel if they really didn't' believe in the idea. Fox has surely wanted another movie in the series for some time because of the first two films' grosses but Boyle and Garland haven't bitten because they didn't have a story they loved. It sounds like that has changed.
Now this doesn't mean the picture will be made and it definitely doesn't mean Boyle will direct but we can hope and pray that he does return to the director's chair for this third movie. One of the things that made 28 Days Later work was Boyle's eye. He filmed it in such an amateur, primal and brutal way — it was unlike anything we had ever seen. Boyle returning to the series would be a real treat and would definitely be something truly and proudly different.
I really want this movie to happen but, more importantly, I want Boyle and Garland to want it. After years and years it sounds like they are both finally on board with moving forward and that's music to many horror fans' ears. Hopefully progress on this project will move as quickly as Boyle and Garland's zombies.